All About Adopting Dogs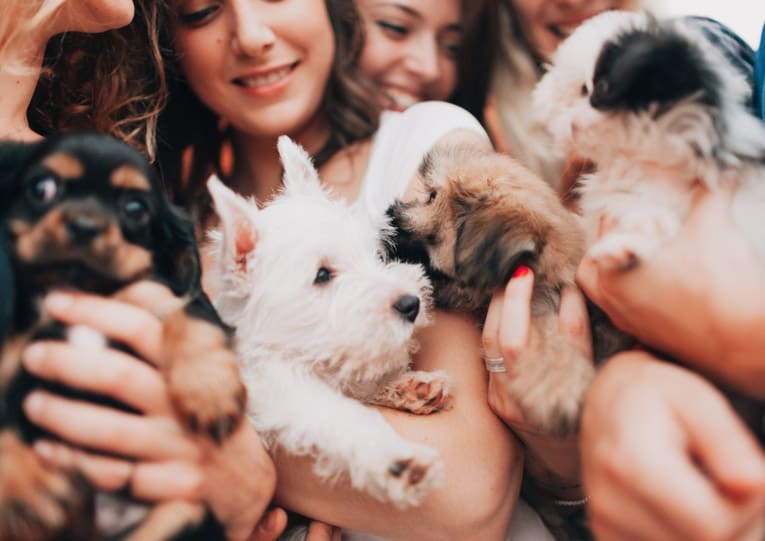 The decision to adopt a dog into your home can be a complicated one. Each dog will bring with them a unique personality and set of needs. In order to choose the right dog for you and your family, there are several factors that should be considered throughout the dog adoption process.
Dog Adoption Information:
Lifestyle: Before rushing into a dog adoption, take a quick inventory of your lifestyle. Dogs will bring with them an added time commitment and could significantly alter your daily routine. Try to choose a dog that will evenly match your activity level. Some larger high-energy dogs will require constant attention and frequent walks, while an older or smaller dog might be content to sleep away the day. Also, consider your work and travel schedule before adopting. Dogs should not be left alone, or unsupervised, for long periods of time. Dogs by nature are pack animals and social creatures that will demand both your time and attention.
Family integration: No matter the size or makeup of your family, your new dog will need to be able to integrate into your current family structure. If you have children, make sure to look for a well-socialized dog that that has a good disposition toward children. If you have additional pets at home, take them into consideration as well. Every human and animal in your home will have some interaction with your new dog. To avoid problems, you will want to find a dog that can happily coexist with each of them. Often, animal shelters will be able to answer questions regarding a particular dog's history with children and other pets.
Health and medical history: Your new dog should be current on all shots and vaccinations. Dogs that are old enough should also be spayed or neutered. These preventative medical procedures help assure that your dog will be healthy and happy. Do your research and ask questions before you adopt. Some dogs will require additional medical needs. These could include daily medications, frequent veterinarian visits, or additional at-home care. Pet insurance, if purchased, can help offset future medical costs.
Cost of ownership: The true cost of dog ownership will depend on various factors. The dog's breed, his age, or even your location will all determine the immediate and future costs of adopting a dog. Some immediate pet supplies will include food, ID tags, and a collar. You will probably also need treats, toys, and a new dog bed to make your dog feel at home. Veterinary visits, doggy day care, grooming, and obedience classes can also bring additional costs, but will depend heavily on your individual dog. Before you adopt, look over your budget and determine what added costs you will be able to afford.
Having fun: Adopting a dog should be an enjoyable and memorable experience. When you take the time to find the right dog, you will have a friendship that can last for years to come. There is not a perfect breed, age, or personality when it comes to dogs. Keep an open mind and have fun searching for your new friend.