Ember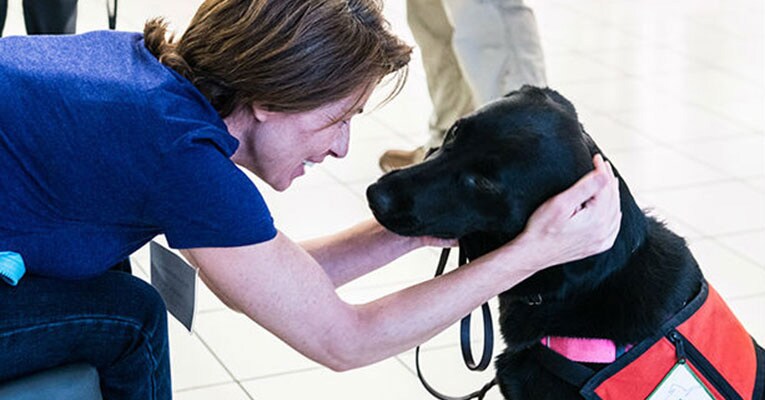 Ember | by Sheri Soltes, Founder & President of Service Dogs, Inc.
Ember was another black lab dumped at the San Marcos Animal Shelter. Like most shelters, the central Texas facility was drowning in large black dogs, statistically the least adopted by the public.
Every day, Ember sat in her kennel run and watched people walk by. She watched as people stopped at the white dogs' runs, opened the metal door, put a leash around their neck and led the eager dogs out to their new homes.
She watched as the yellow dogs got adopted. She watched as the spotted and speckled dogs went out, the puppies, the little dogs and the fluffy dogs.
One day, two people finally stopped at Ember's kennel door. It was Al and Becky from Service Dogs, Inc. They had noticed Ember's friendly demeanor. They were impressed that she met them at the front of her run and just watched them calmly as they tapped on the door and held up their clipboards.
She felt excited as they put a leash around her neck and led her to a small, fenced yard. There were lots of things to smell in the yard. Old tennis balls, wet piles of leaves and used toys; but, all Ember wanted to do was stay close to Al and Becky to see what they'd do next. She eagerly accepted treats from them and even played with a pull toy on a rope, chasing it and picking it up softly in her mouth. Finally, Ember was walking out of the shelter and into her new life.
Ember's new life is filled with nurturing, fun, good food, caring people and purpose. She is a Service Dog. She's mastered basic manners, public outings and assistive behaviors such as retrieving dropped objects, tugging open doors and refrigerators and even helping with laundry.
Service Dogs, Inc. matched Ember with Kenneth Conley in Austin. Kenneth has problems walking and keeping his balance due to a rare type of spinal muscular atrophy that weakens the muscles of his arms and legs.
"Dogs have a great sense of the people around them," say Kenneth. "I feel they can sense my disability with a caring heart. Ember will change my life by giving me back my independence while at the same time, she will benefit from a partner who will love and take care of her."
"People without a disability take the little things for granted, like picking up your dropped car keys or opening the door to a business and walking right in. With a Service Dog, I can do those things myself again while having a friend by my side."
Every dog at Service Dogs, Inc. comes from a shelter. And they are all on their way to becoming stars.